six
π

constant directivity cornerhorn performance data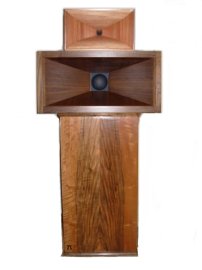 The ideal: The constant directivity cornerhorn. In this configuration, the sound source is within 1/4λ from the apex of the corner. This makes the walls act essentially as a large waveguide, confining radiation to the angle of the walls. There is no waveform disturbance - It creates a perfect section of a purely spherical wavefront from the corner into the room.
Our six "π" constant directivity cornerhorn is the result of decades of refinement and hundreds of hours of extensive development and testing. It provides high-fidelity and uniform directivity, and is efficient enough to provide room-filling sound even when driven by low-powered single-ended triode amplifiers. It also has the thermal capacity to handle several hundred watts of amplification without distortion or stress. This wide range of power levels provides exceptional dynamic range, making the six "π" constant directivity cornerhorn suitable for critical listening, studio monitoring and home theater applications.
Bass extension is more than adequate with or without subwoofers, but the use of multisubs smooths the modal region while simultaneously increasing deep bass extension. A pair of subs placed at opposite ends of the room from the cornerhorns are recommended for deep smooth bass.